Blog by Chris
For someone who only does a select few weddings a year, I knew that 2 of them in 6 days was going to be a challenge, especially on a bum knee. It's not often the word 'heroic' is thrown around, but when I was getting ready for the day, the Rocky theme came on my iPod, so you be the judge. Bags are packed, batteries are charged, memory cards are formatted, knee is wrapped, photographers are….caffinated? We were off to the Bull Run Restaurant in Shirley MA, but it is far from a typical restaurant. Between a covered bridge, a concert hall, multiple bars and function rooms there was no shortage of cool and interesting areas to take our photographs. We had also done an engagement shoot there some months ago on a day that felt like a scene filmed on the ice planet Hoth (first nerdy reference, more to come) so we were familiar with this unique location.
We arrived at 2pm and were greeted by the bearded faces of the groom and his groomsmen, the dogs (much more on them later) as well as a bearded Jason Kenny. The original plan was to take the getting ready pictures of the females first, and then guys after, but they were here and we had cameras and we weren't afraid to use them. One of the advantages of a guy/girl photography partnership is one of us can relate to our subjects in just about any situation. I knew this group of groomsmen was going to be much like me from the get go through one obscure 90's music reference. Follow along if you can. Someone brought homemade peach moonshine, and the conversation managed to go from moonshine > alcohol percentage > Everclear (190proof) > Everclear (band) > air guitar of "Santa Monica" by the groomsmen. The next 40 minutes or so are a blur of video game references, a StreetFighter (girls are shaking their heads at this point) groomsmen pose, random air guitar riffs, and beard discussions.
I was informed that the girls were on their way, and per their agreement, the bride and groom were not to see each other. I ushered them (usher, get it?) to hang out in the front of the building until the ceremony. As was mentioned earlier, one of the advantages of our partnership is especially in the getting ready phase, we blend in with the respective wedding parties and try to catch the most honest emotions that we can.
I made my way down to where the girls were getting ready, opened the door and was greeted by a familiar sight. The room was filled with empty wine bottles, shoes, bags, clothing, and stressed bridesmaids, and although familiar I was still terrified by the the sudden spike in estrogen (I forget that I write like I talk, and I talk very sarcastically, this is one of those times).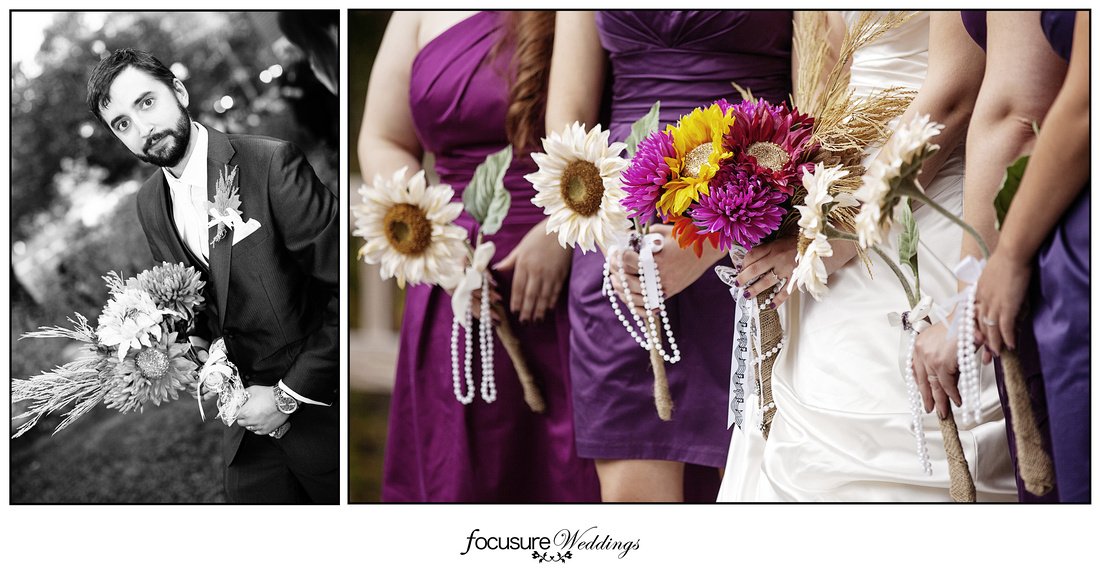 By the time I had arrived Nancy was dressed, Leeann was shooting, and there was an eerie calm before the storm vibe in the room. This is going to sound weird, but Nancy's dress to me fit the room they were getting ready in perfectly, it felt timeless. I walked in to her leaning against the bar, with a glass of wine in her hand, next to what looked like a light fixture from the 40s it was very early Mad Men.
The overall theme had a great rustic feel, a lot of natural colors and earthy details, which created a great backdrop for the traditionally dressed bridal party with the men in grey and the women in different shades of purple.
Ceremony time, and the sun has just come out! Everyone is happy! Well of course, except the photographers. Long covered bridge with bright sunlight requires some quick changes and some extra light, but everything went off without a hitch, including the dogs of honor Mr Nacho Cheese, and Ms Jazzy (who really thought that bridge was tasty).
A quick bridal party shoot on the most excellent covered bridge.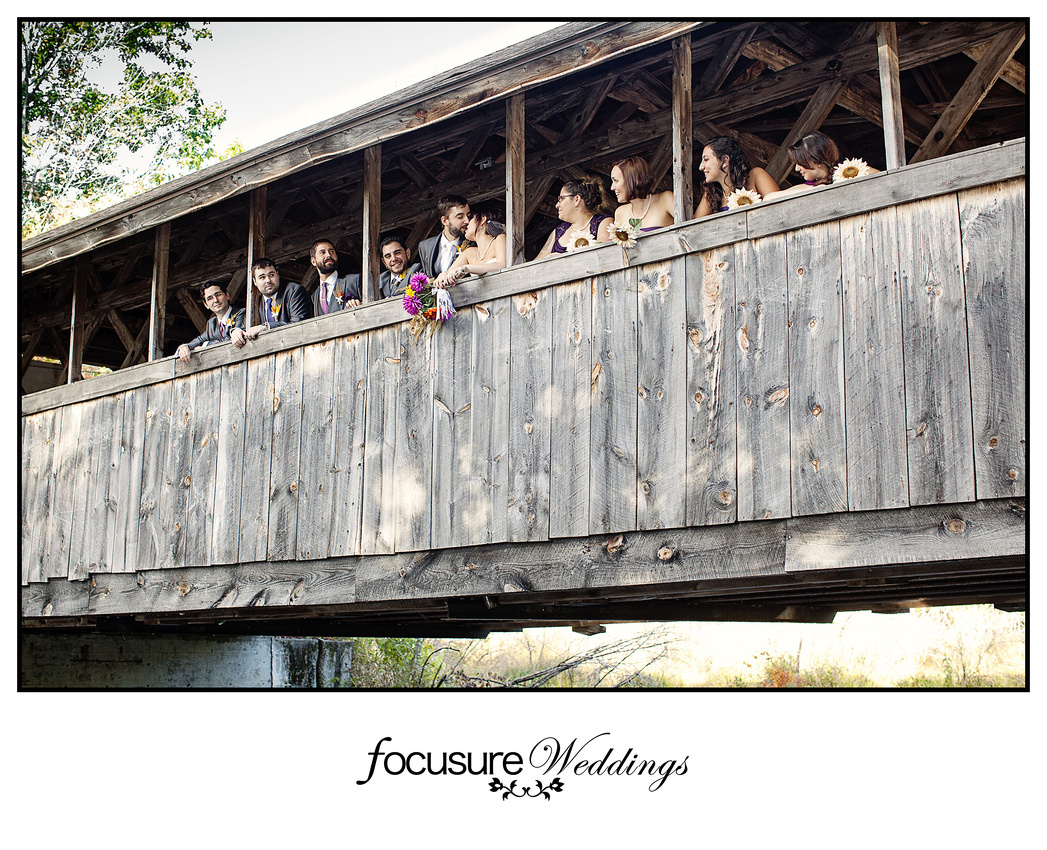 Some newly man and wife photos and we head upstairs to the reception.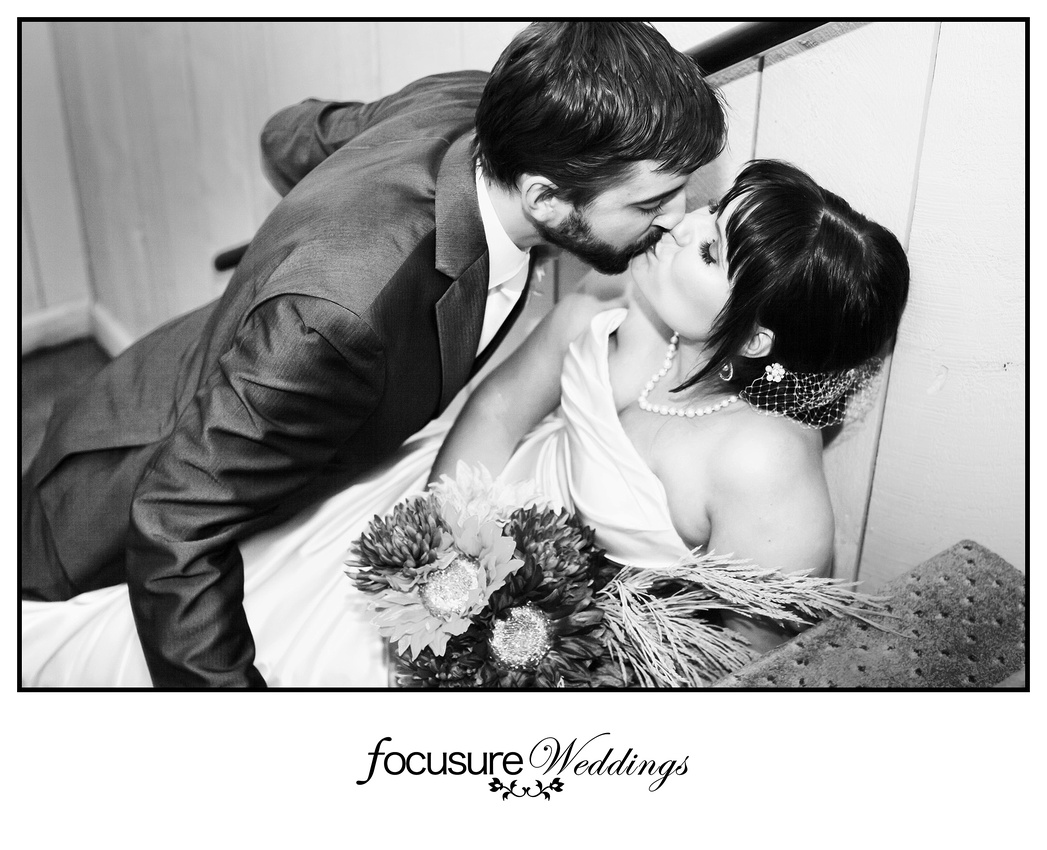 Natural touches including huge sunflowers, pumpkins, wheat and hay helped complete the rustic vibe.
The reception included most of the standard events including toasts, family dances, a cake cutting, bouquet as well as a garter toss (which concluded in a very hesitant man finally picking it up).
The dance floor opened up, we busted out the props, and let people go to town with their silly hats and feather boas. All in all a wonderful day, and we are very pleased Nancy and Dan wanted us to capture and share it with them. Congrats Mr. and Mrs. Sakkinen!